Home Page › REVIEWS › Viva Pinay: Book Review
For many years, Filipino families have been raising their children in the traditional way. Parents inculcate in their children's mind the value of education and the importance of having a degree for the future. Our parents dreamed of us being professionals – doctors, engineers, teachers, accountants. But not many parents encourage their children to become entrepreneurs, investors and businessmen and make money on their own. Thus, many of us end up being overworked and living from paycheck to paycheck.
When I received a copy of the book, "I Wish They Taught Money in High School," I was downright intrigued. Not many self-help finance books tackle the local Philippine setting. Most I've seen were about US finances, stock market, networking and others that soon douses off my interest. This book, or rather back-to-back books are entitled "I Wish They Taught Money in High School So I'm Not Dependent on My Paycheck" authored by Clarissa Seriña – de la Paz and "I Wish they Taught Money in High School So I Can Start My Own Business Right Away" written by Sharon W Que.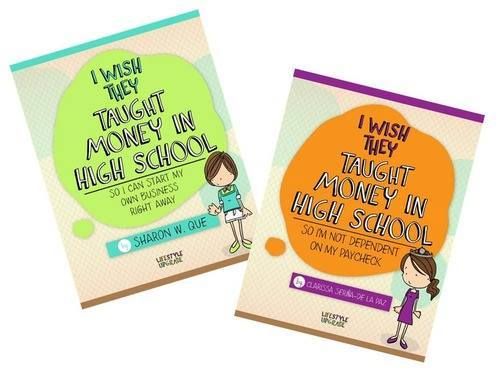 Both authors shared their experiences on how they have encountered financial issues, earned money and sustained it to live the life they want without slaving in their offices like the rest of us. Their honest insights and simple terms made it easy for me to understand and digest.
You will learn a lot from these books especially on how can save effectively and achieve your goals in life. It doesn't matter if your wages are little, with the right planning and discipline with your finances, you can achieve financial freedom and success.
The book is like a treasure trove of knowledge and tidbits on personal finance and I thank the authors for sharing their experiences as well as their resources for their readers. It is also very interesting to read because there is comic-book like illustrations to get your imaginations running. You can get a copy of this amazing book at Lifestyleupgrade101.com.
You may also visit their fan page at https://www.facebook.com/lifestyleupgrade101to know more about the authors, their books, money management, investing and financial literary.
http://www.vivapinay.com/2014/02/book-review-wish-taught-money-high-school/